Click HERE for Main Course Recipe Page.
More Fun, Travel and Adventure!
"Set a course for Adventure!"
Well, it's been a busy couple of months and I've been spending quite a bit of time on the road.
First destination, Washington, DC. While subsisting primarily on restaurant chain food and the free lickies and chewies provided by the hotel during happy hour, I did get to meet up with old friends to share a drink or two and a meal. Good seeing my former blues crew members "Orange Peel" and "LookaBob." Unfortunately, my laptop's hard drive ate itself somewhere between the UK and my hotel and I lost contact info for my old team leader, so missed an opportunity to drink a few with him.
As usual, my bud, Lyle, took care of me. Had one of my best meals at a little hole-in-the-wall diner. I'll insert the name here when I remember it. Classic patty melt as can only be experienced at a greasy spoon diner!
One thing about that trip was the fact that my hotel was only a block or so from a Costco. Oh, yeah! Definitely loaded the suitcase up with goodies I can't get in the UK. It was also somewhat traumatic as I walked around and saw other things like huge gas grills, whole beef tenderloins and major appliances all for a fraction of what they would cost me here in the UK. I vaguely remember sitting by the grills at one point and crying like a little girl. Fortunately, though, the grills were located next to the wine section.
Then it was back to San Diego. And, while I enjoy my visits there, I really hate traveling to the "Left Coast." Crammed in the "Tube of Pain" while hurtling through the sky for 11 hours each way is bad enough but the jet lag on my return home usually kicks my ass for the next two weeks.
Didn't do a whole lot of culinary exploration this time around, either. Opted mostly for deli food and homemade sandwiches from stuff I bought at the local grocery store (Ralph's). I did have a great phone conversation with my good friend, Dave, from "back in the day."
A week back home, then it was off to Germany! The first night there we got the stupidity out the way. While spending way too much time and money in the bar with "Monkey Boy" and "Disaster Girl," I drank more Harp lager than I had since I left Abu Dhabi. This proved to be especially stupid the next morning as I was giving a briefing while I could barely contain wave after wave of nausea.
They have a great little canteen at the base I was on. The first day, we stopped in for lunch. When inquiring about the menu, the cook smiled and told us with great glee that it was baby pig! Mmmmmm!
We ended up at Subway.
Next time, though, I'm going for the baby pig!
Another weekend at home and it was back to Germany. This time, though, it was to take my daughter, Ronnie, to the European finals for her bowling league. Although she didn't win, she still did pretty good. Besides bowling alley pizza and commissary sandwiches, we had a decent meal at the "Wingers" restaurant there. While the food was unremarkable but fairly tasty, the bartender made a fantastic martini (actually, I had a Vesper...see desert page).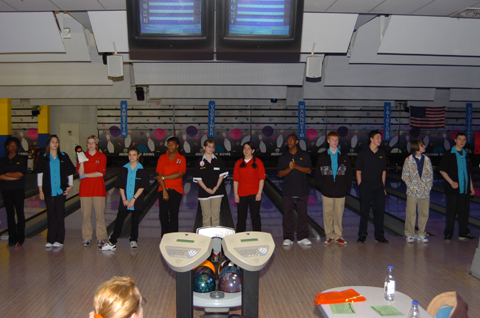 Bowling tournament introductions (Ronnie is 4th from left)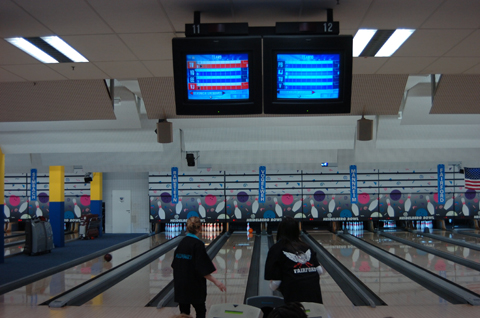 Ronnie (left) picking up spare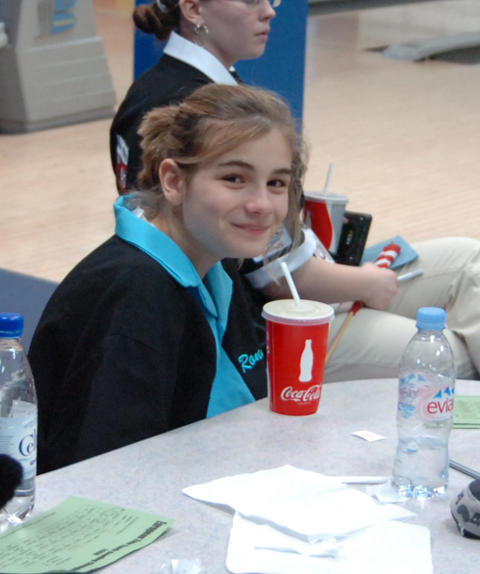 Pleased with her performance
Anyway, back home now, at least for the next month or so. And, as always...
Life is a sandwich, eat it up!
Mike
TM
Smokin' RhinoTM Hot Sauces!
Smokin' RhinoTM hot sauces. Flavors include Chipotle, Habanero, and for the ultimate in pain, Rhino Death Sauce Weapons GradeTM . All made by hand and in very limited quantities. No two batches are exactly the same because it IS being made by hand.
Read what customers are saying:
"That's just not normal." - Mick, Former Paratrooper (UK)
"Holy F*&king S*%t!!! What the F*&k IS this?!" – The Rev. Jonathan B, Chaplain
"Why ya gotta make s*&t this hot?" – Mark W, CPO, USN
"You're an idiot." – Mrs. Nancy J
Smokin' RhinoTM hot sauces. Made by me and by request in small batches of 3-4 bottles at a time, (a real pain in the ass to make but, it's a labor of love). I will also be putting together gift packs (Hey, 'tis the season and all that!) containing Smokin' RhinoTM Hot Sauces and/or Salsa.
For details, email me at: mike at thesandwich dot com (spelled out to help keep spam out)